Glass, hardware and grids, oh my! What's a homeowner to do when it comes to learning about window parts? We've got you covered with these easy to understand explanations outlining the top 5 window components you'll want to learn about before you undertake a home remodel that involves replacement windows.
Glass

When it comes to glass, most homeowners who are remodeling their home or choosing replacement windows want them to be energy efficient. That means your house will be warm in winter and cool in summer. Milgard adheres to ENERGY STAR® v6 requirements to meet or exceed U-Factor (a measure of heat loss) and Solar Heat Gain Coefficient (the amount of heat transmitted) criteria.

In addition to having an energy efficient window, you may also choose from four aesthetic options:

Tinted Glass: This option offers additional shading from direct sunlight.
Obscure Glass: Often used for bathrooms, these textural patterns offer privacy while allowing light to show through. 
Laminated Glass: Laminated glass is produced by permanently bonding two pieces of glass together with a tough plastic interlayer between them. It can be used as a safety glass because if it is broken, the glass fragments adhere to the plastic rather than free falling. It is highly effective in reducing noise and UV rays to help protect your carpet and furniture from potential fading.
Crystal Groove: An artistic and elegant option where the design is ground into the glass. Choose a square, diamond, fan or spoke pattern.

Frames

When looking at replacement windows, there are basically four types of window frames to choose from. Depending on the look and feel you are trying to achieve, each frame offers different benefits.

Vinyl: Polyvinyl chloride (also referred to as PVC) has many advantages, including being virtually maintenance-free. It's durable, non-corroding and comes in a variety of exterior colors to blend in or stand out. Milgard offers a variety of vinyl windows for replacement projects or new construction, with the most popular being the Tuscany® Series.
Aluminum: Light yet strong, aluminum windows offer slim profiles to maximize the amount of glass shown. Consider Thermally Improved aluminum frames to improve energy efficiency on this timeless classic.
Fiberglass: Offering a strong frame solution, fiberglass is often used in high humidity and high heat environments, such as bathrooms and kitchens or for large walls of glass. It resists swelling, rotting and warping, which also makes them very low maintenance. See Milgard UltraTM Series for a fiberglass window frame.

Hardware

The hardware of a window refers to the lock, handle, tilt latch and finish options of the hardware itself.

Lock: The way in which a window locks, depends on the style. (Slider, casement or awning.) The click you hear tells you when it is securely closed.
Handle: The handle is what you grab with your fingers to open and close the window.
Tilt Latch: Usually available on single hung and double hung operation styles, the tilt latch helps you pull the window towards you for cleaning.
Finish: This is the color of your hardware, generally white or metallic.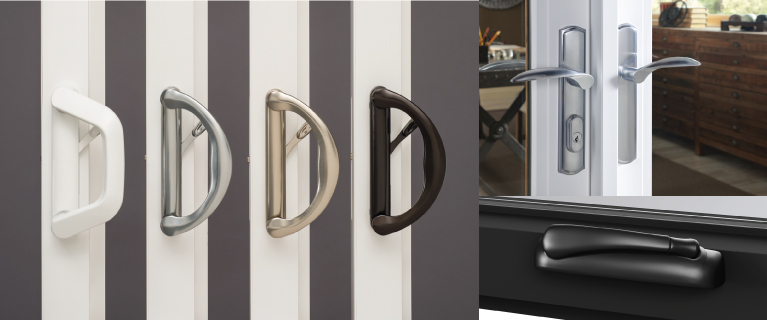 Grids

Grid patterns visually break up the pane of glass with a variety of decorative styles. Grid options are based on where they're placed on the pane, either between the two panes of insulated glass or on the surface of the glass itself, both the interior and exterior. You may find that exterior grids look more authentic but having them between the glass is a lot easier to clean.

Screens

Window screens allow fresh air to come into your home and keep bugs out. They are most commonly created from aluminum and fiberglass. Screens are placed on the exterior side so that you can open and close the window from the inside. For casement or awning windows, the screen is on the inside, so that the window can be cranked open for ventilation. (PureView® screen shown below).
Now that you better understand window part terms, you'll feel more confident as you get started window shopping. Milgard has hundreds of window dealer experts ready to help answer your questions about windows and patio doors. Use our dealer locator to find one near you.