Cost vs Value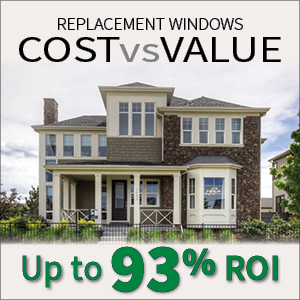 According to a 2017 survey of cost versus value done by Remodeling Magazine, replacement windows in upscale homes have a 93% return on investment in the West Coast. If you've been considering replacement windows in your home, now might be a good time to take action. Not only will you enjoy energy savings, a beautiful new look and noise reduction while you live in your home, you may recover more than 90% of your investment when you resell your home. That's something to think about.
Why Do a Window Replacement Project?
You look through your windows every day. What impact do your existing windows have on your home? Swapping old, low-performance windows with replacement windows can result in increased comfort, enhanced beauty and even add value to your home.
Unlike full-frame windows, which are designed for new construction, replacement windows are made to fit into existing window openings. Milgard custom-makes each replacemet window to order so you don't need to worry about finding an existing size to fit.
The first thing to do is measure your window replacement opening. Make sure you assess the condition of the opening. Look for structural or weather issues on the surrounding wall space. It is important to complete any needed repairs before proceeding with the window replacement project. If you are not sure what to look for, a Milgard Dealer can help. Schedule a free expert consultation.
VIDEO: What to Expect When Replacing Windows
If you're replacing windows, you can make the best of your home's existing site and orientation on a window-by-window basis so as to control solar gain and take advantage of more natural light. Work with your window dealer and contractor to ensure you take maximum advantage of today's insulating glass and other window features.
Some Tips to Consider When Replacing Windows in Your Home:
If you're looking to control solar gain, you'll want to use extra high-efficiency forms of Low-E insulated glass to reject more of the sun's heat and damaging rays while letting you enjoy window light.
If you desire abundant natural light and fresh air, consider window styles such as horizontal sliders and casements as well as sliding patio doors

that let in lots of air and light.

Ventilating skylights are a great way to let in more light while providing a place for rising warm air to leave the house.
Windows on the north, east and west walls can all be great for balancing interior light with natural light but can be energy drains

in cold climates

. Replacing these windows with energy-efficient options can help improve your heating bills.
In a replacement project, you have the opportunity to change the operation style of your existing window or even put in a patio door.
Need help with decision making? Schedule a free expert consultation.