Have you heard about indoor outdoor living yet? It is becoming a hot remodeling trend! Homeowners are transforming their patio spaces into extended living rooms through the use of different patio door options. If you are looking to turn an existing window into a door, expand your current patio door even wider or replace a wall with a vast opening that leads to the outdoors, try one of these five patio door solutions:

Swinging French Doors

Swinging patio doors elevate the look of a home and are very stylish. Known for their panes of glass and the ability to let in a lot of light you can choose from in-swing doors or out-swing operating styles. To determine which is right for you, there are a few things to consider:

Hinges: Which side of your home do you want the hinges to show? They are inside the home for In-swing and on the exterior for Out-swing.
Space: How much space do you have? With an In-swing door, you need clearance inside your home to allow the door to open without hitting any furniture. For Out-swing, you need a clear path exiting the home to allow for the width of the door swinging outward.

Sliding Patio Doors

When you are working with a pre-existing door opening or limited floor plan space, sliding patio doors are a great option. Designed with either a right-hand or left-hand operation, these doors slide along a horizontal track and can be customized with decorative handles, premium exterior colors, glass options and grid patterns. Tuscany® Series | V400 sliding patio doors with vinyl frames are very durable and virtually maintenance free.

Stacking Glass Walls

When stacking glass walls open, each panel stacks on top of each other, while it slides down the track, so, depending on the size of your opening, you could have between 3 and 6 tracks. When fully open, your living room extends into your patio space and your home is filled with natural light and fresh air. 

Pocket Glass Walls

If you want the panels of your patio doors to disappear from view when the door is open, you'll want pocket glass walls. As the panels slide open, they are tucked into a wall pocket out of sight creating an open-air retreat. When the door is fully closed, the large door panels beautifully frame your scenic view. These patio doors are perfect for replacement projects or for new home construction. 

Bi-Fold Glass Walls
With Bi-Fold glass walls, each panel folds on top of the adjacent panel as you open it, creating a grand entrance onto a private deck or patio space. The thin, modern, frame profile pairs well with a variety of architectural home styles with four colors to choose from that can blend in or stand out, depending on your design preference.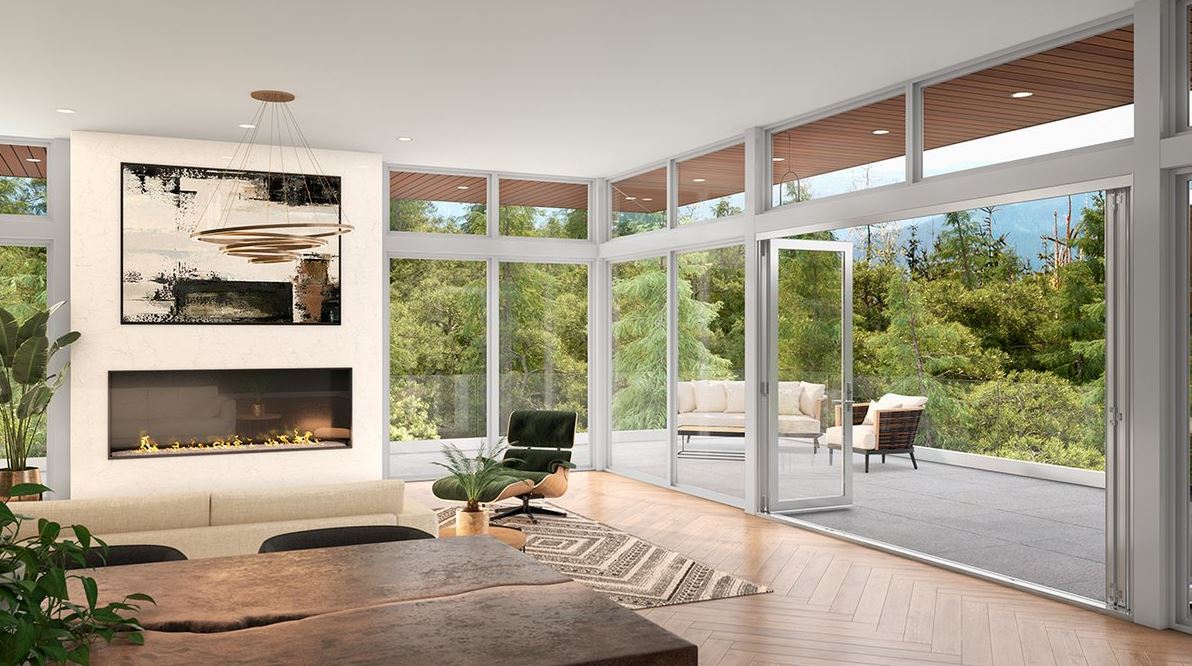 Once you've chosen your patio door, it will be time to decorate! Consider a mix of sofas and chairs for ample seating. Decide if you want to carry the color palette of your interior through to the exterior space with pillows and rugs for a seamless transition. Or, define the space with a pop of color. Think of your patio as an extension of your living room, so, don't forget dining tables, end tables and coffee tables as well as decorative pieces like candles, baskets or statuary.
Still undecided on which patio doors are best for you? Check out our Patio Door Selection Guide.