One Christmas, Lou Maxon received a gift he couldn't stop thinking about: Tom Kundig's first book.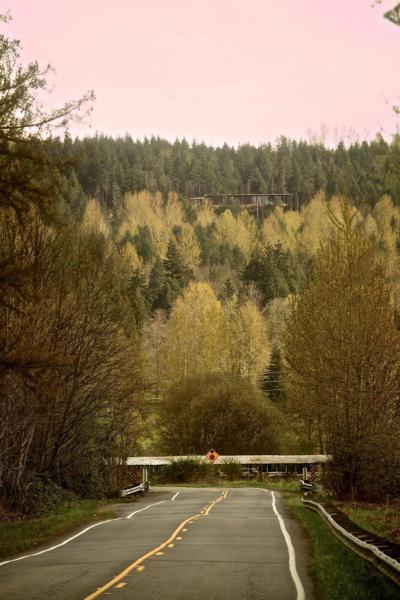 Lou and his wife were in midst of pursuing an architect project of their own. The couple bought 21 forested acres in the Pacific Northwest, an empty slate waiting to be transformed to their dream home.
Inspiration
Design magazines of unique and inventive structures inspired their vision. They jotted down notes on post-its of designs they liked, creating the conceptual groundwork for their project. "She would note how spaces made her feel, while I note what materials were used and how the materials blend into nature," said Lou. Time and time again, his mind kept going back to the Tom Kundig book. After interviewing many different architectural firms, the couple decided to collaborate with the namesake of Lou's inspiration --- Tom Kundig of Olson Kundig architects. Lou became closely involved with each step of the process, a journey he carefully documented as Building the Maxon House in Dwell.
Walking up to the Maxon House is experiencing a building slowly coming to view. The ramp is first to greet the oncoming visitor and then what appears to be a large tree house integrated fluidly in nature materializes. "The architecture is art in itself, there's a true craft to that," said Lou. "We appreciate the level of detail."
The Windows
The rectangular shape of the home is almost concealed in the forest, an abode for the family inside. Floor-to-ceiling Milgard aluminum windows create a mural of expansive views. The flow of fresh air and natural light made it feel as if the family lived in a tree house. "Our builder and architect have worked a lot with Milgard," said Lou. "And I wanted to support local companies as much as possible."

Why a forever home?
The family wanted to invest in a home they could spend more time enjoying and less time maintaining. They elected to opt out of details in favor of focusing on a simple, open floor plan that optimized for built-in storage. Quality, low-maintenance materials like steel were carefully selected for the building. There is no deck or garden, but instead the enjoyment of living in midst of completely natural landscape. This also meant no yard work. 
The couple intends Maxon House to be their forever home and designed the building to address future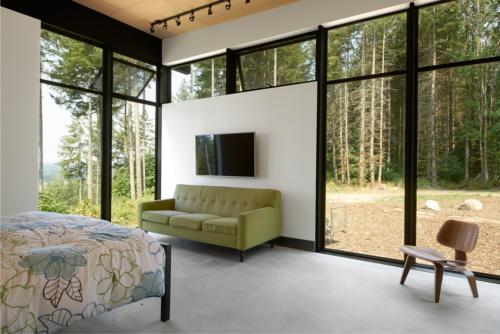 "aging in place" challenges. They chose to keep the home to one story with no stairs. The kids'bedrooms were modest in size, easily adaptable for other usages. "If the design is truly good, it should be timeless," said Lou. "It's really about a way you live in the house." Coming from suburbia, Lou describes Maxon House as a completely different way of living. "Our neighbors are the forest, deer and bald eagles," said Lou. The layout of the house celebrates a sense of connection and gathering. "We really like hanging out together as a family. Even if we are reading or watching television, we can all be in this great room that is connected to the outdoors. The great expanse of windows bridges the house to nature."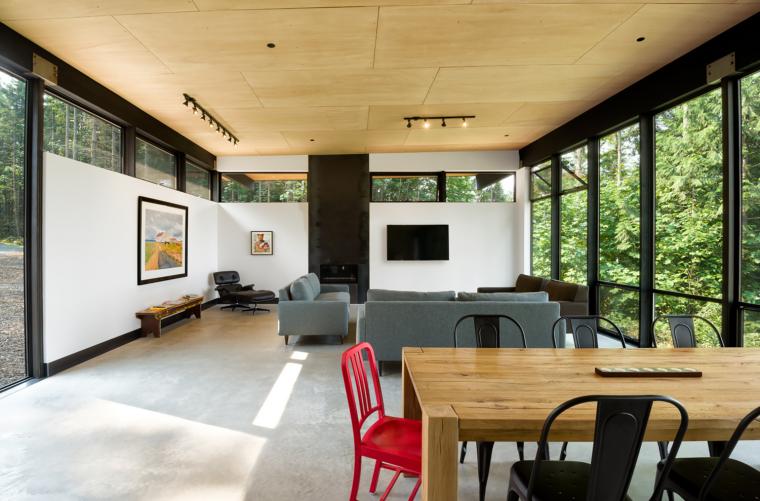 Photography: Lou Maxon, Mason Coberly
Architect: Tom Kundig of Olson Kundig
Builder: Schuchart | Dow