While there are many modern and trendy home designs in use today, traditional is still the most popular home décor style in America today.
A traditionally decorated home is gracious, inviting, warm, and recalls a bygone era of understated elegance. For many, it reminds them of the comfort they felt in their own childhood homes.
Traditional décor usually relies on rich wood tones, conservative color palettes, ornate decoration, and classical prints like stripes, plaid, and floral.
The kind of furnishings found in traditionally decorated spaces is much more diverse than you might think at first. You can find furnishings from 18th century England, the French countryside, or even Asia in traditionally decorated rooms. Some of the most popular styles are French country, turn-of-the-century or American/European antique.
If you are thinking of decorating a room or even your whole home in a traditional style, here are some key elements:
1) Strive for Elegance
Elegant rooms have an understated design with little flash. To achieve this effect, strive for gentle curves on your furnishings. Look for chairs and sofa with rolled arms and subtle curves at their backs. Roman shades work well on the windows. Utilizing curves in this way ties the room together beautifully. This is what is often referred to as soft decorating.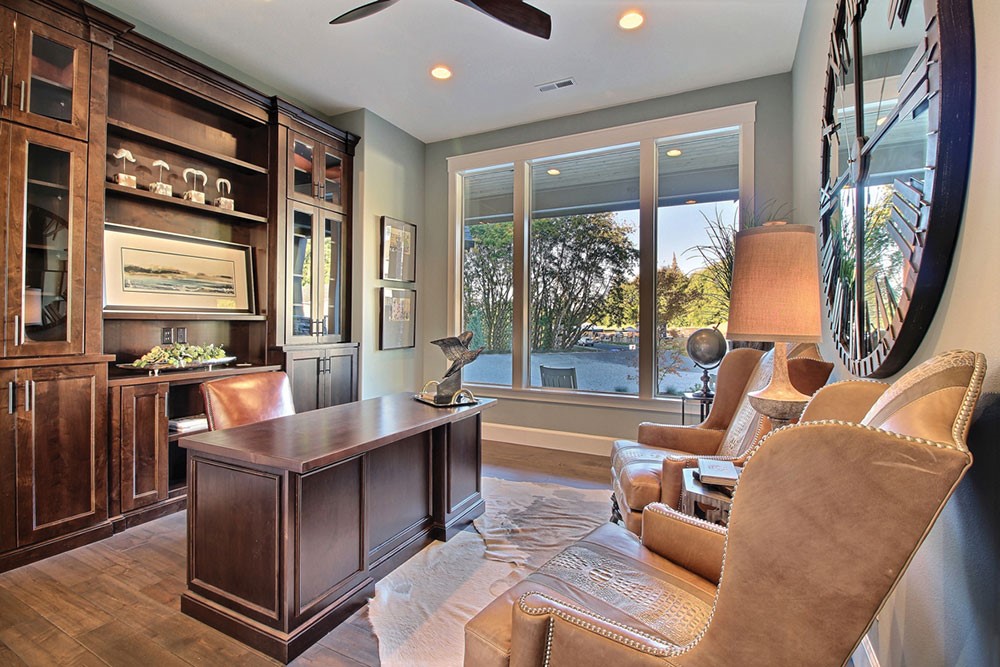 Colors
In your use of colors, you'll want to balance the palette. Try using green and peach tones with aubergine and tan. This creates a slightly floral set of colors but keeps it from seeming fussy. Bronze accents and warm wood enhance these colors and lend a comforting, inviting atmosphere to the space.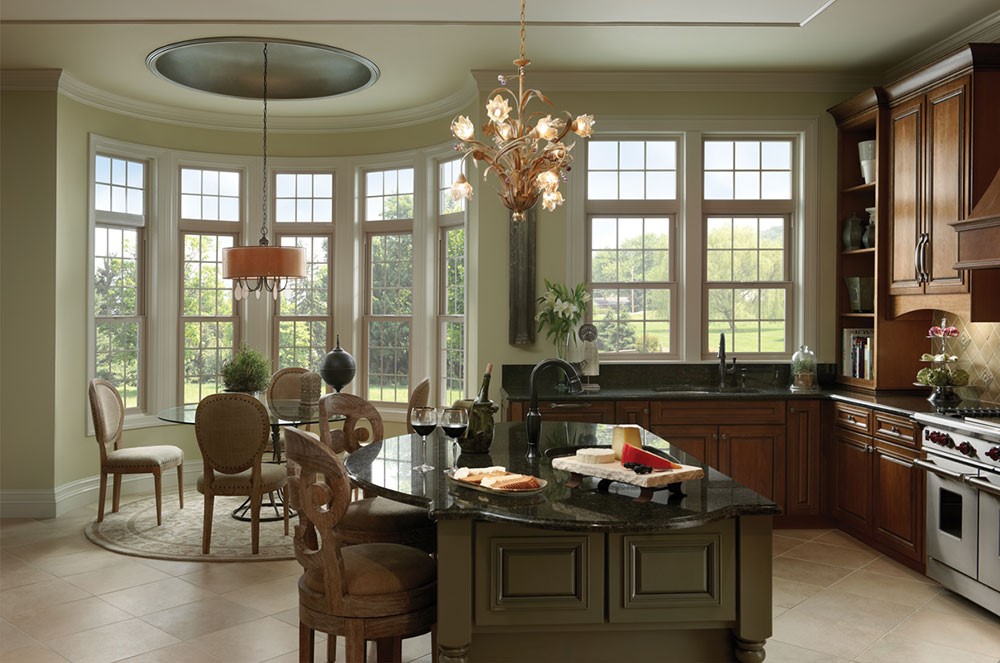 Window Treatments
Try giving your window treatments a tailored look. The formal swag-and-panel combo looks very good. Panels are gathered together loosely by tasseled cords. Add in a nice design detail to those scalloped edges with a bit of fringing.
Fabric
Utilize prints, but don't go crazy with them or else you risk drowning the elegance. Try using a small print pillow on a sofa that has a floral print pattern. Damask is a good fabric to use. It has both a dull and a shimmering texture that makes the room visually interesting, especially if used with tassels, trim, or fringe.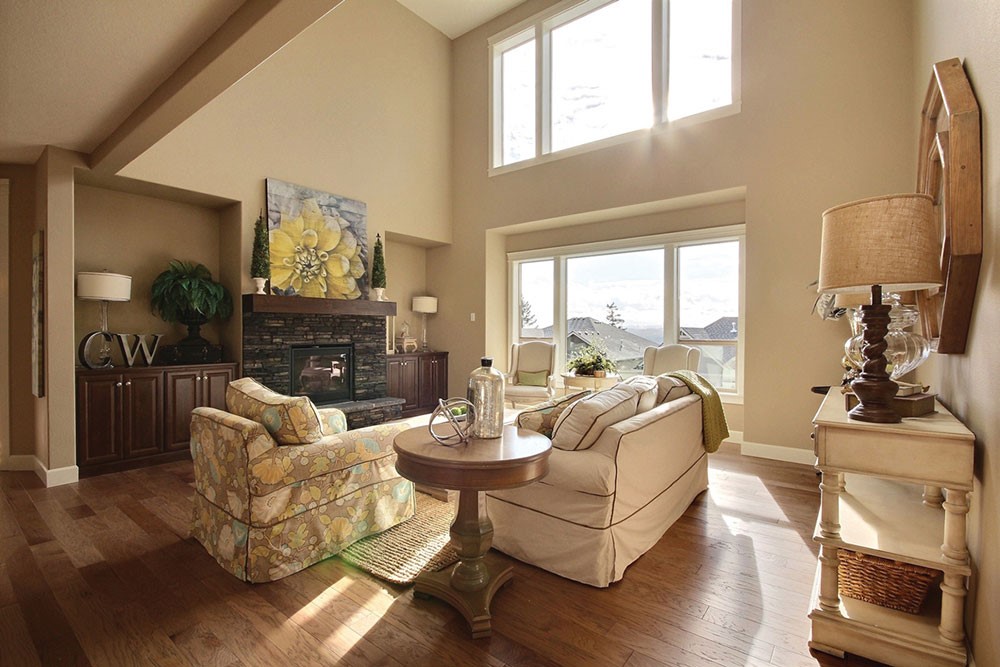 Accessories
Look for classical accessories Such as gilt frames and still-life oil paintings. For focal points, try to emphasize pairs. To take the theme to the next level, hang a crystal chandelier, add in a few silver candlesticks, and strategically place either silk or fresh flowers in a grandiose vase.
2) Try Adding Contemporary Flare
Contemporary art makes for an interesting and often fitting juxtaposition with traditional décor and architecture.  The key is to look for art with colors that complement the design and furnishings of your room.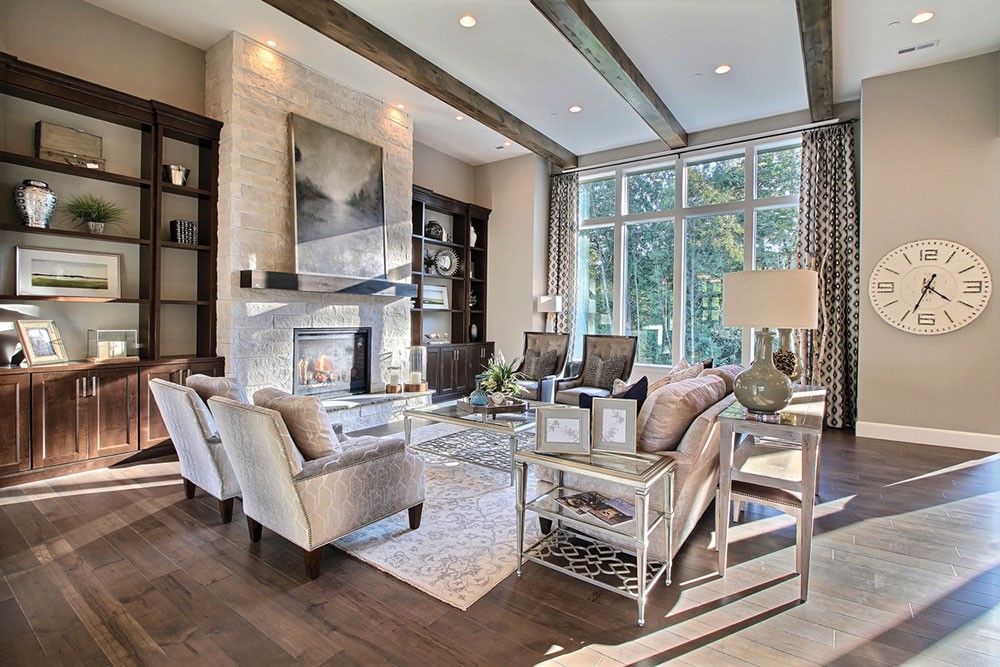 Bonus Tip: Books are an interesting touch that are both contemporary and timeless. As they are typically stacked vertically in shelves and libraries, try updating the room by stacking them horizontally. For a super modern look, place books in multiple stacks with a few inches between each. To be more traditional, mix your horizontally and vertically arranged books.
3) Brighten It Up
Bright colors are the simplest way to rejuvenate a space. In this photo, a bright, soft mint green creates a young, yet still traditional feel.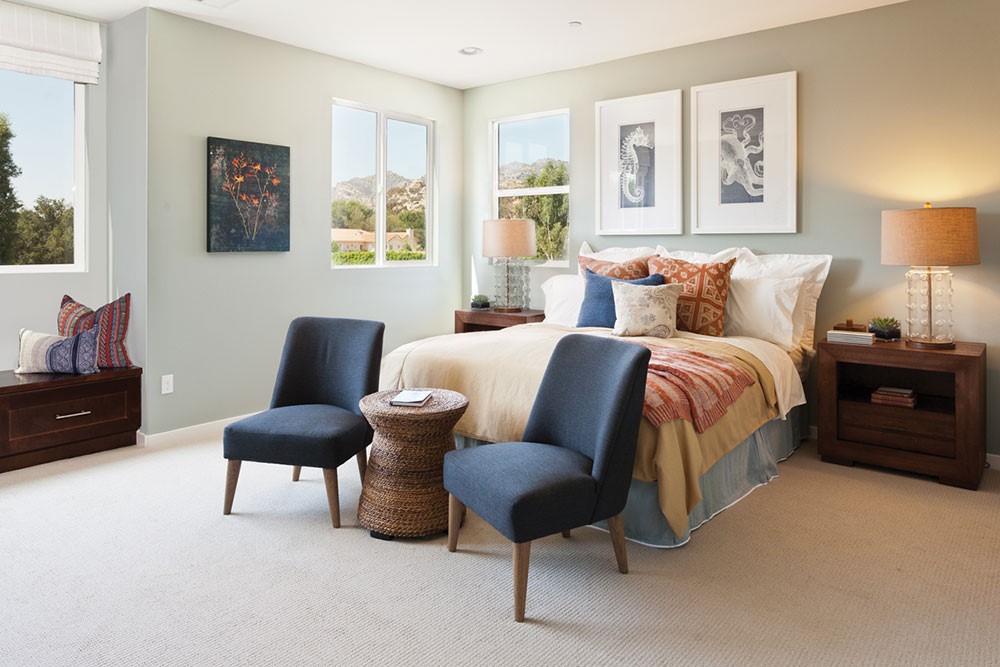 4) Bring In Some Transparency
Transparent surfaces lighten up the heavy look of dark wood and upholstered furniture. Try glass-top coffee tables, a crystal chandelier, or a glass bar cart. Clear items have another advantage: you don't have to worry about matching them, as they blend right into your existing décor.
5) Solidify Your Décor 
Having too many intricate patterns can make a room look busy or outdated. For a modern touch, bring in some solids. To keep it interesting, vary textures, finishes, or mix metals. Use the shape of your furniture, as well, to keep the solid colors interesting.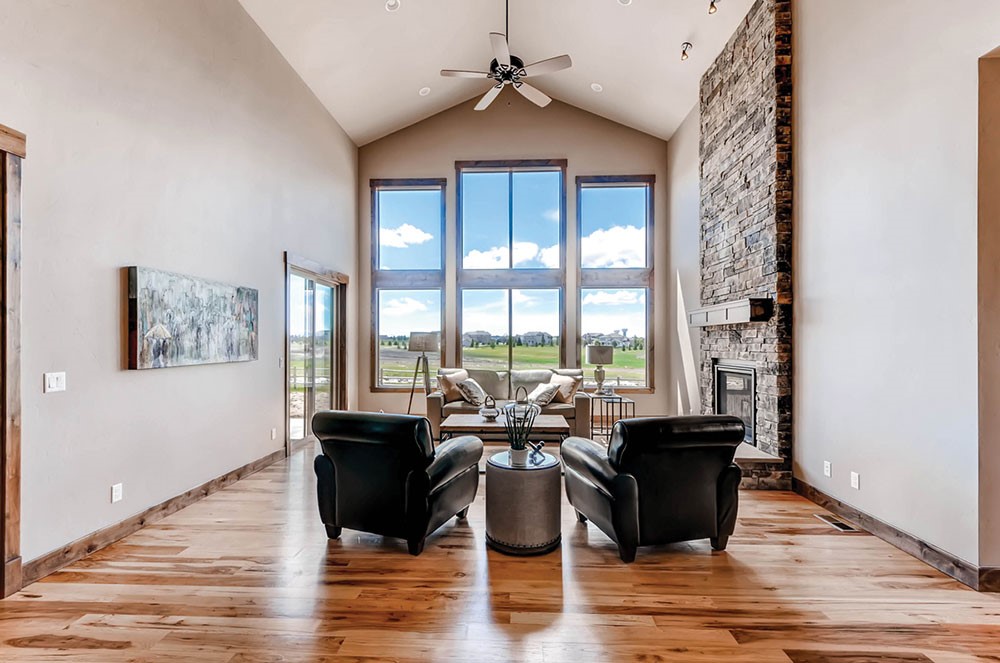 6) Around the World
While the most common furniture you see in traditional design is European, American, and Chinese, more exotic furnishings can work well too. Look for pieces from places like Africa, South America, or Southeast Asia, or even artsier and more exotic pieces.
7) Work in Layers
Layers can make a space bolder while retaining traditional elegance. Layers refer to pillows, rugs, lamps, window treatments, furniture and wall décor. If there is a classical material or pattern you really like, lay it on thick to mix up the traditional look.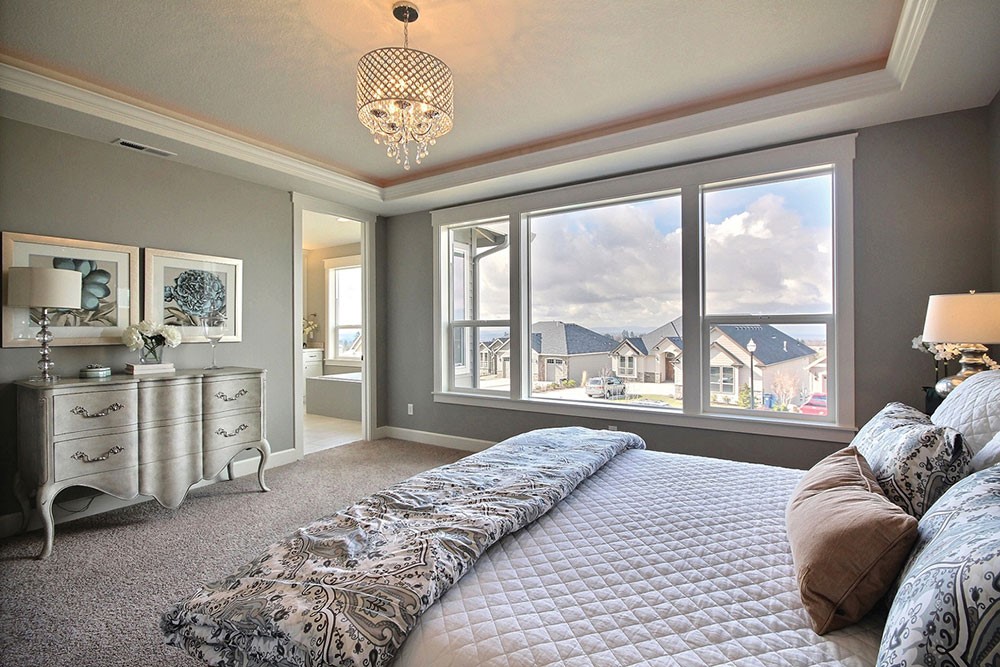 8) Add in the Unexpected
You want to be careful that your traditional décor doesn't seem stuffy and predictable. Throw in offbeat elements, like slings chairs or exotic area rugs. Try out strange juxtapositions or unusual arrangements. These can add a bit of pop to your traditional décor.
9) Create a Unique Layout
Place furniture around the room in new ways. A floating day bed in the middle of a small room is unexpected yet cozy. Think along traditional lines for your layout, then discard them to try something new and different. Experiment with your furniture layout and you might find one that strikes a perfect chord.
10) Experiment with Scale
Scale can make a unique statement in your space and can make a room absolutely memorable. Try things out and do some research to see what professional designers pull off.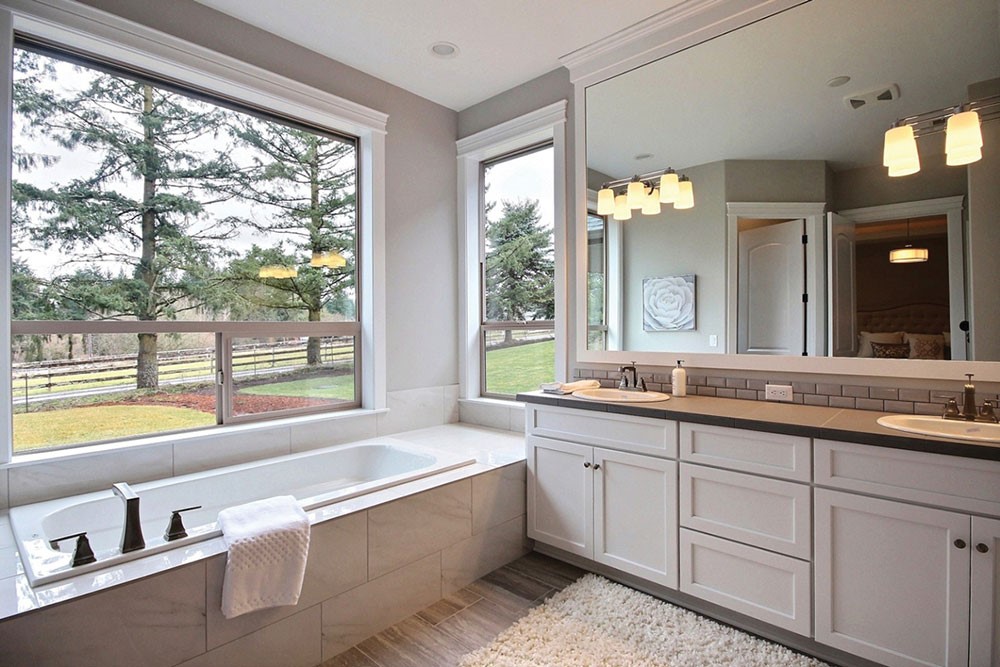 Bonus: A Few More Tricks
Trim Color
Same Color: Paint the walls, ceiling, and trim all the same color to hide imperfections while maintaining and highlighting the lovely touches you probably admire in your older home. Use semi-gloss on the trim to draw attention to it.
Neutral Color: To really show off your trim, paint it a neutral or nearly neutral contrasting shade. Adding the same color to the ceiling will tie it all together. 
In-window shades
Using in-window shades will ensure your elegant window trim is visible, whereas drapes would hide it. They also add a modern touch to a traditional look. 
Airy Shelves
Using open shelving to show off items means you can add in some very personal touches and they won't disturb the room's original architecture. They also add a gallery charm to a space.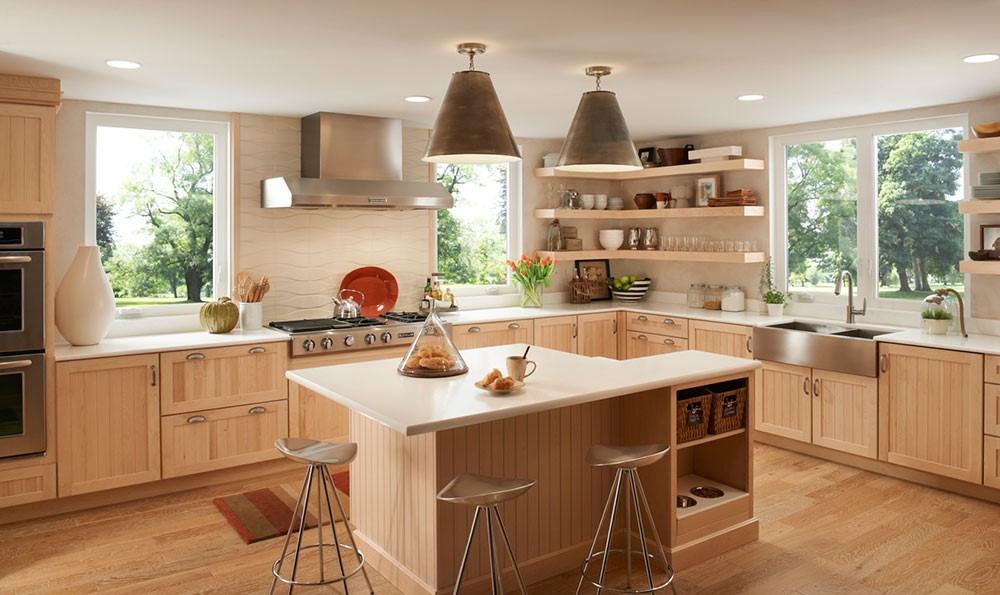 Which Methods Will You Try?
Traditional décor has a lot of variety and a sense of timelessness. Updating it doesn't mean undoing any of that!  A touch here or there can make a room feel fresh yet classical, all while avoiding flash or fussiness.