Originally built to echo the flat prairie landscape, these homes value strong horizontal lines and wide open spaces. Yet, Prairie architecture doesn't have to be plain. Frank Lloyd Wright revolutionized the American home when he began to design "Prairie" style houses. Rooms were a direct contrast to the Victorian era style; rather than 'boxed in', the interior spaces were open. Mostly an upper class or upper middle class movement, prairie style homes usually have low-pitched roofs and straight-line, geometric patterning. Earthy tones are used to tie the home in with the surrounding nature.
Recommended Window and Patio Door Styles for Prairie
Image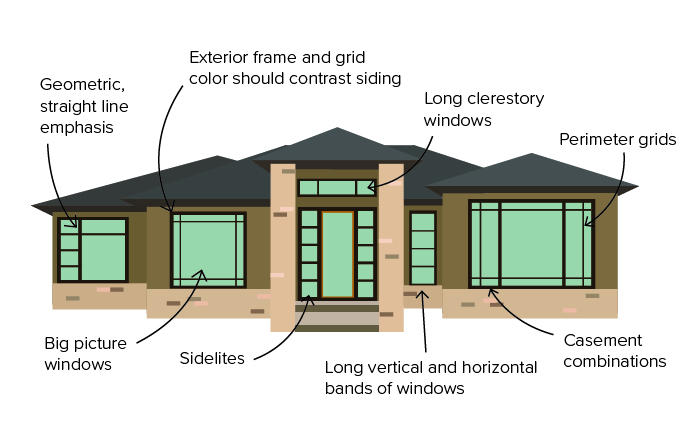 Prairie Style houses employ the use of a high band of narrow windows above doors or bordering the top of a room. This is called a "clerestory", which is made from picture windows because they are out of reach. Another common operating style in Prairie homes are awning windows placed together in rows. This style allows for ventilation while maintaining the accented look of a Prairie Style home. Large picture windows also help maximize your view from the living room, dining, or master bedrooms. Casement windows are often seen in combination of picture windows.
Exterior frame colors are usually dark neutrals to contrast the earthy tan siding. Fiberglass and vinyl offer premium colors to choose from. See our recommendations for Prairie Style homes below.
   *Color options and materials vary by location and product series. Be sure to discuss available options with your Milgard Dealer. 

Perimeter grids are often applied in Prairie homes to accentuate the horizontal focus and geometric pattern. Perimeter grids offer an even broader because you can specify a perimeter on each window, on just a sash or a perimeter across an array of windows and/or doors. 
Image

Sliding Patio Doors are often paired with sidelites which match the low horizontal lines and maintain the open interior spaces of a Prairie Style home. This versatile patio door style can accommodate a variety of decorating and placement.
Image