As the name suggests, Spanish, Mediterranean, and Stucco homes are influenced by the region in its descriptive. This ranges from older homes with small windows and large doors topped by arch windows, to new-style Mediterranean homes that have larger windows. This style of architecture is often noted by the exterior stucco material, archways and curves, and ceramic terracotta roofs to deflect the hot sun. Balconies and large circular walk out bow rooms are common features incorporated into these homes. Siding color ranges from white to sand and the roof from red to brown.
Recommended Window and Patio Door Styles for Stucco, Spanish and Mediterranean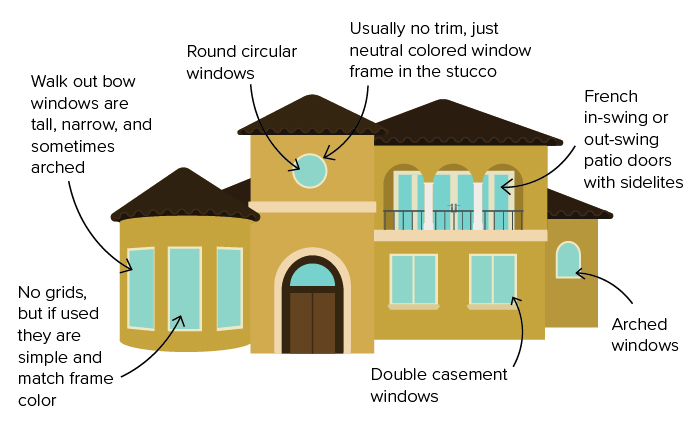 Casement windows are a popular operating style in these homes. They can be tall and narrow while standing alone, or come in pairs of two. Tall windows, sometimes arched, are often seen in a walk out bow, which are bow windows that extend to the floor of a curved wall. Arch windows are common in stucco style homes as they complement the curved lines of the architecture. Circle windows can also serve as an accent, especially on the top level.
Usually, windows do not have any trim in Stucco, Spanish and Mediterranean homes because the stucco siding gives a soft "punched out" look around where the window sits. Exterior frame colors are usually a neutral shade of tan or a darker brown to contrast the siding color.
   *Color options and materials vary by location and product series. Be sure to discuss available options with your Milgard Dealer. 

Older homes in this style have standard grids that match the frame color, but the more modern ones typically don't have grids.
Image

French Style in-swing or out-swing patio doors are a great fit for this style of home. Add ventilating sidelites for more light and fresh air. These doors maintain the integrity of the design while ensuring a sturdy, functional performance.
Image