What's a homeowner to do when they love a location but not the floor plan? Remodel of course! For this home alongside a golf course in Sun Lakes, Arizona, it was lucky that the new residents were an interior designer and a home developer with a beautiful vision to create an open concept living space.
"There was a beautiful view from the property, but we could not enjoy it," said Terry Harrison. "We had to tear down the interior walls and change the floor plan to see the lake, trees, and magnificent sun sets."

The general contractor, Ross White of White Construction Group, highly recommended Milgard to his clients for the project. 
Aluminum windows were used for their clean lines and modern feel. The back wall was completely re-engineered adding two eight foot sliding doors and two additional flanking windows to maximize the view. 

"We prefer a soft, contemporary approach to residential design," Terry told Milgard. "Less is more. In fact, orchestrating a beautiful interior is a lot like cooking: You should use the best ingredients available! And for us, ease of use and low maintenance was mandatory."  
For others who are considering a remodeling project, Terry recommends that you do your research. Don't begin a project without a complete plan in place, up front, with all materials selected to avoid change orders during the process.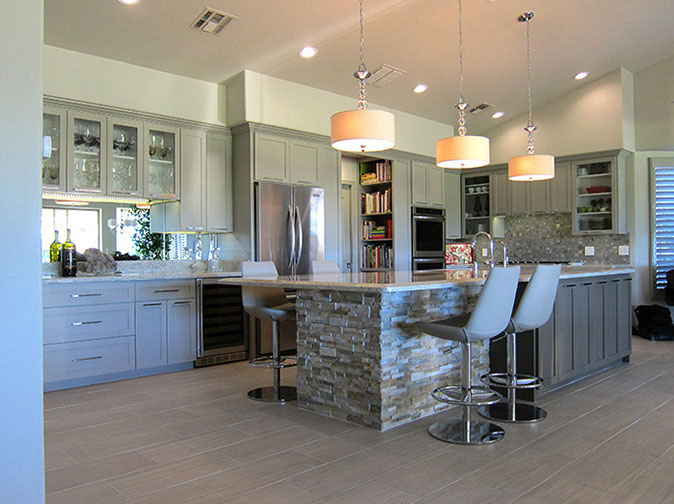 Another tip: Don't settle for mediocre ideas or materials. Think outside the box and don't play it safe. For the final touch, the furnishings and art you select will create a space you love to live in.
They now have a front row seat to changing seasons, ever present wild life and a big blue sky…  and they couldn't be happier.
Project Info:
Milgard Series Used: Aluminum Series windows
General Contractor: Ross White, White Construction Group
Developer: Harrison Herbeck 
Photographer: Terry Herbeck
Project Name: Crystal Contemporary
Location: Sun Lakes, Arizona