Clean lines, smooth surfaces and lots of light encompass the look of a modern home. Ornamentation is kept at a minimum to focus on a large perceived space and welcome indoor-outdoor living. These one-of-a-kind homes are usually asymmetrical with flat or uniquely slanted roofs.
Recommended Window and Patio Door Styles for Modern
Image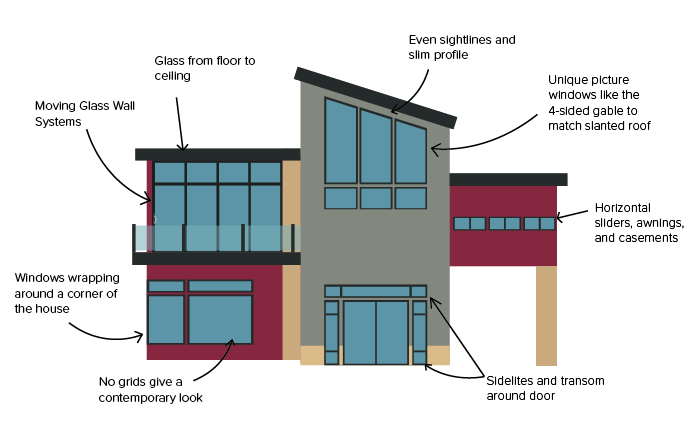 While modern homes are varied in how they are designed, sliding horizontal windows can almost always be a great choice. Another popular operating style is awning, often times placed below large picture windows as it brings in subtle fresh air. Many modern homes push beyond the norm when it comes to the shape and positioning of the windows. This could look like uniquely cut gables, windows wrapping around the corner of a home, or having glass from floor to ceiling. The possibilities are endless!
Aluminum is a popular window material to use because modern homes almost always have even sightlines and slim profiles. is also very durable and energy efficient. The exterior color palette of these homes tend to be darker neutrals using grays, blacks, and dark reds. Looking for a dark frame color to compliment your interior space? Aluminum series offers Bronze Anodized on both the interior and exterior. Additionally, UltraTM Series has powder coated fiberglass in Black Bean, which comes on both sides of the window. 
  *Color options and materials vary by location and product series. Be sure to discuss available options with your Milgard Dealer. 

To create a sleek appearance, grids are seldom applied and generally kept to valence grids if employed.
Image

Moving Glass Wall Systems are a popular choice in contemporary homes as they bring in ample amounts of natural light and highlight wonderful views. The narrow frames help to ensure these doors are cohesive with the design and with the indoor-outdoor living trend. Sidelites and transom windows are a popular around front entrances.
Image