For the Artisan Home Tour of Kansas City, Starr Homes, LLC designed two homes, each with their own distinctive style and character. The tour was a showcase of new construction homes developed by Kansas City's finest custom homebuilders who were invited to display their unique and impeccable qualities in finer homebuilding. From initial concept to finish, these stunning homes were in the works for nearly two years resulting in one-of-a-kind properties any homeowner would be pleased to call their own.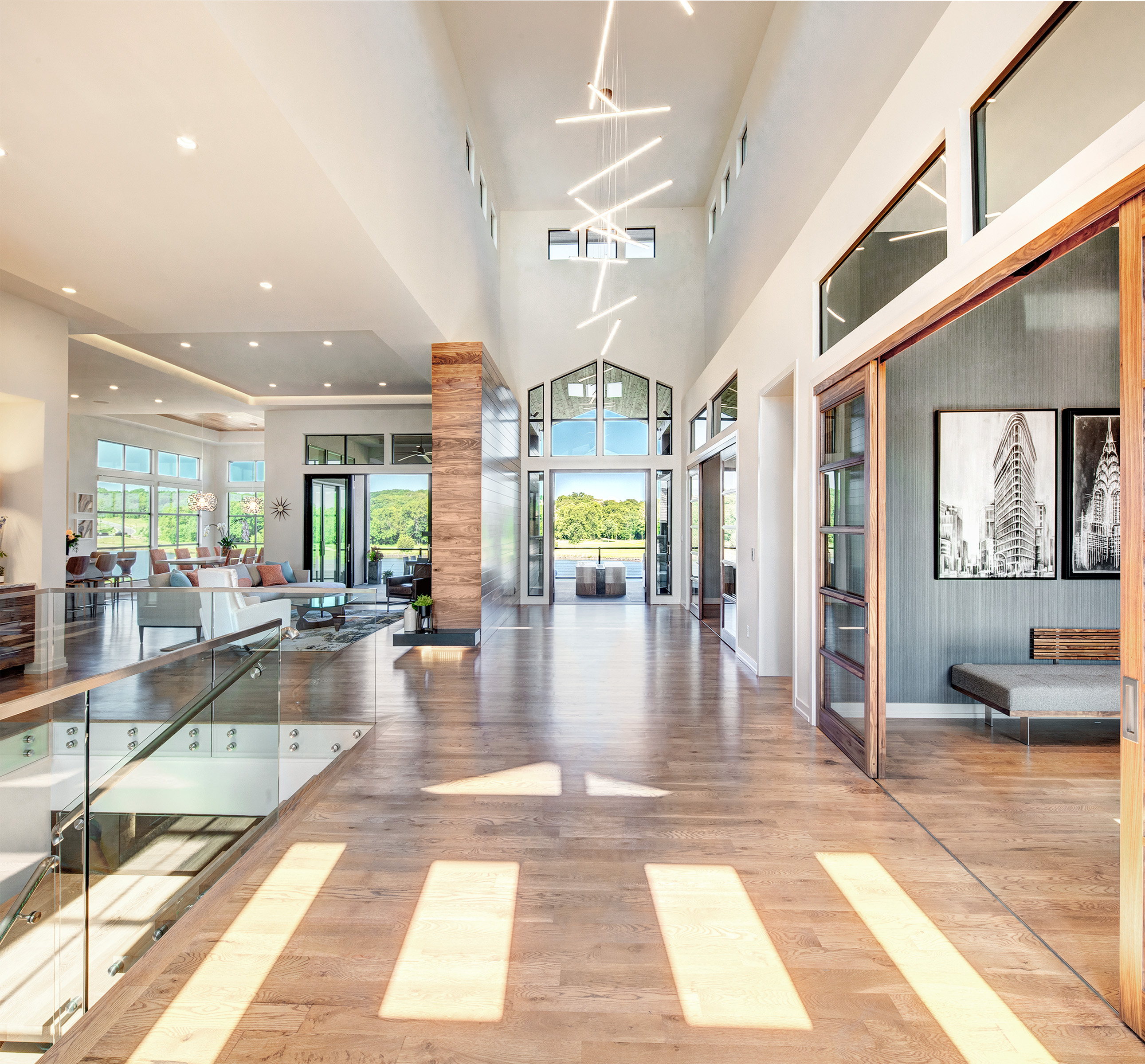 The Village of Loch Lloyd
The reverse 1.5 story home located in The Village of Loch Lloyd was thoughtfully designed around the serenity of the lot and community. The 7,000+ square foot home was designed with modern, clean lines to focus on the stunning exterior surroundings. The front elevation and two-story foyer uses a contemporary window design that draws a ton of natural light in the long corridor leading to the covered lanai in the rear overlooking a pond.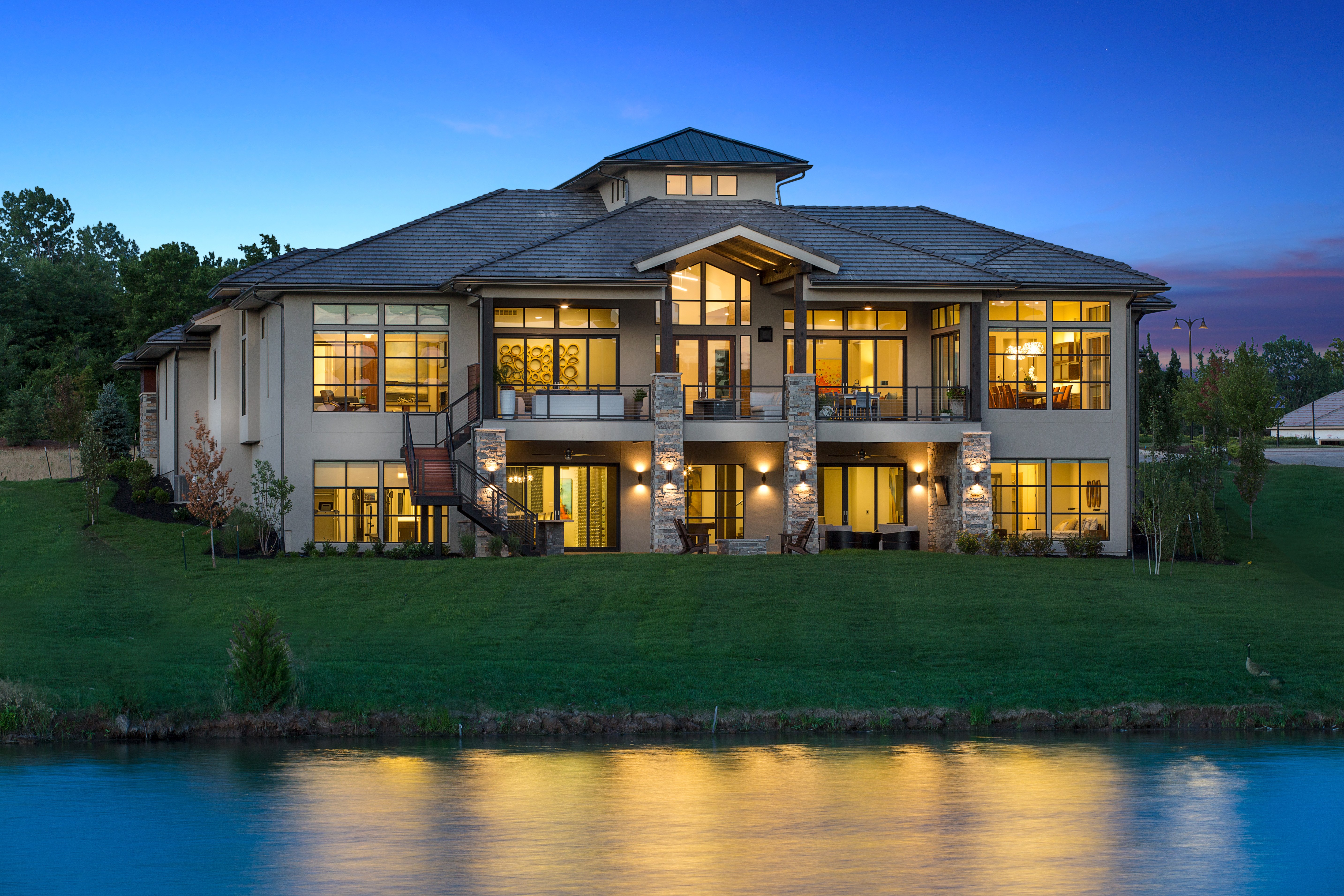 Milgard®Aluminum Series windows were selected for Loch Lloyd, to convey a timeless, contemporary look, and deliver strength and durability. Along with other details such as large sliding doors and floor-to-ceiling windows in the dining room, it is clear this home was designed to merge indoor/outdoor living.
Sundance Ridge
Sundance Ridge was a cozy 1.5 story home inspired by simplified forms and geometric shapes to reflect an art deco revival design. This vision was well accomplished on the exterior which featured a dark bronze frame color.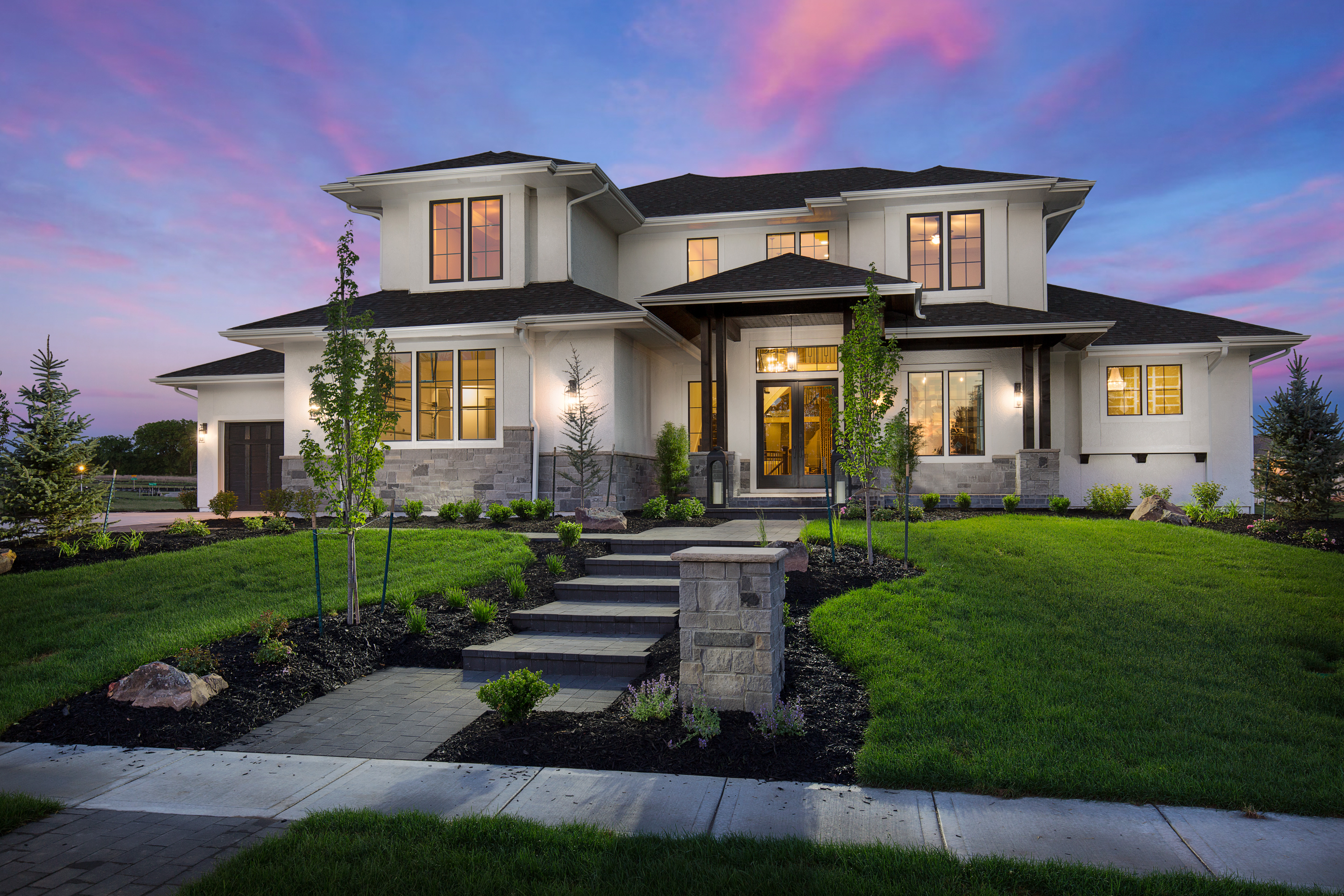 Milgard® Style Line® Series vinyl windows were selected for their slim frame which allowed for more natural light to enter the home. There were also a variety of window shapes selected for visual interest.
Energy Efficient Windows
Starr Homes prides itself on "Building Better, Building Green", an initiative of the World Green Building Council, and Milgard windows were a great fit. Milgard is an ENERGY STAR® partner with products that meet or exceed U-Factor and Solar Heat Gain Coefficient (SHGC) criteria in the areas we serve. The energy efficiency of our products coupled with our beautiful designs made Milgard an easy choice for this project.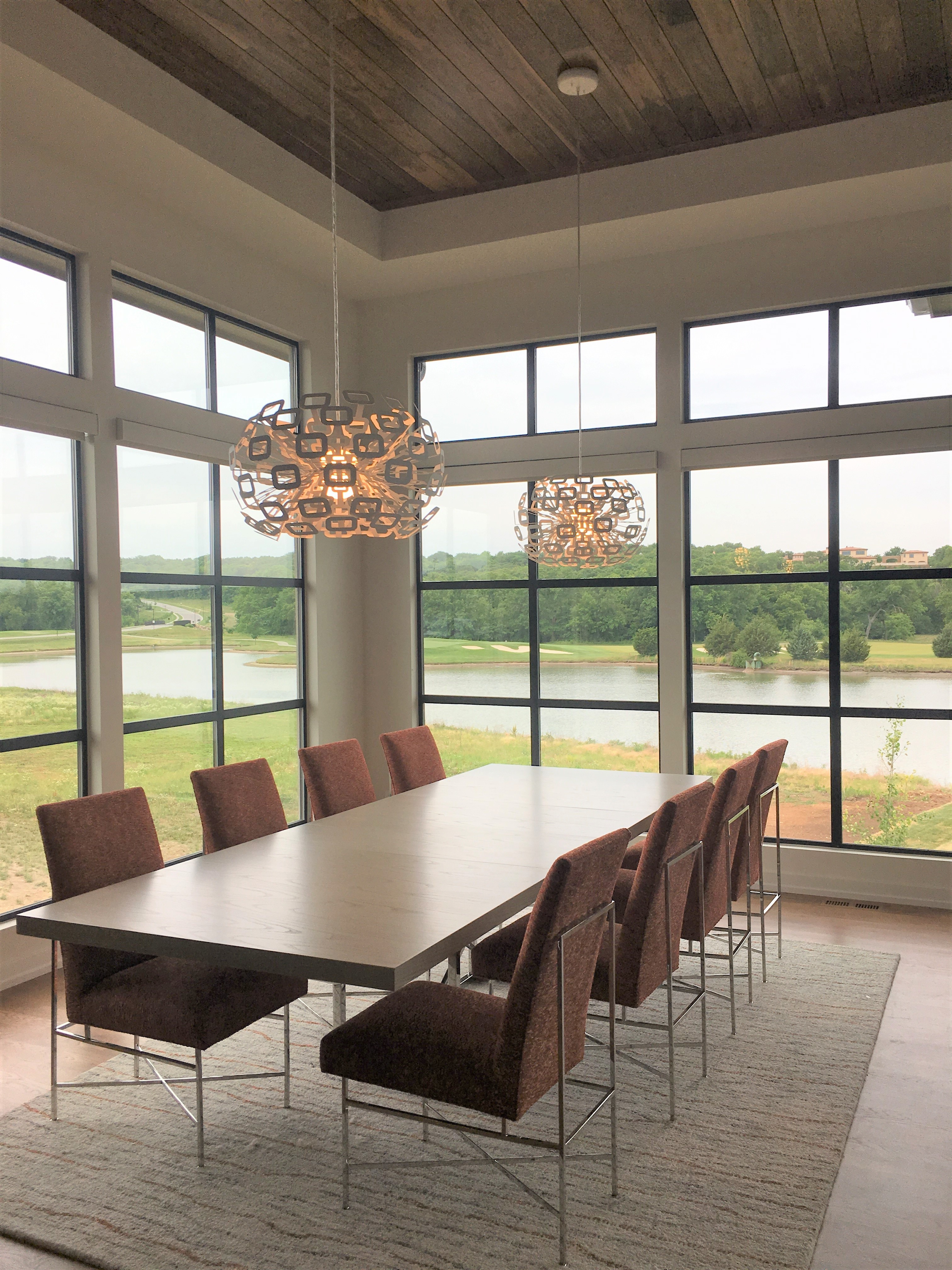 Building a Custom Home
For those considering building a custom home, Bob Osterlund, Vice President at Starr Homes said, "Meet with a Milgard dealer to become fully educated on the products, benefits and inspiration behind each series. Tell them about your specific vision and they will provide you with all the necessary resources, so you feel the most comfortable with your decision, and ultimately, the most comfortable in your home."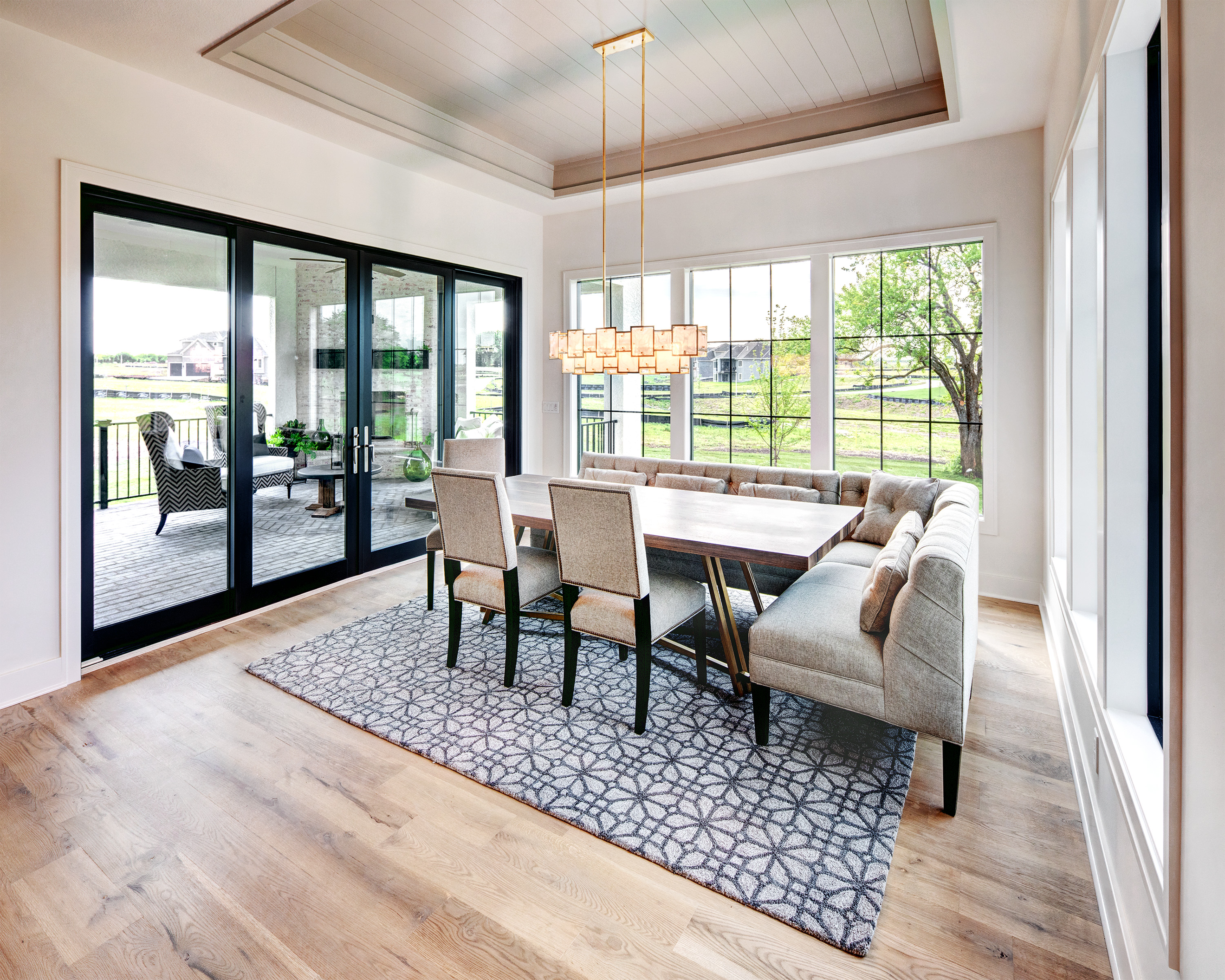 Loch Lloyd Project Info:
Milgard Series Used: Thermally Improved Aluminum | A250
Builder: Starr Homes, LLC
Architect: Castrop Design Group
Photographer: Starr Homes, LLC. Twilight Exteriors ©2018 Matthew Anderson / Interiors by James Maidhof Photography
Milgard Dealer: Kansas City Building Supply
Sundance Ridge Project Info:
Milgard Series Used: Style Line Series | V250
Builder: Starr Homes, LLC
Architect: Starr Homes, LLC
Photographer: Starr Homes, LLC. Twilight Exteriors ©2018 Matthew Anderson / Interiors by James Maidhof Photography
Milgard Dealer: Kansas City Building Supply